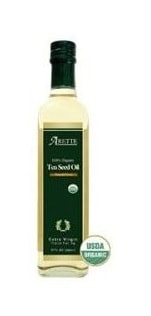 Not to be confused with tea tree oil, tea seed oil is an edible oil pressed from the seeds of Camellia oleifera, a small shrub related to Camellia sinensis, or tea plant.  I recently received some samples from Arette, a company that distributes organic tea seed oil.  As this product may be unfamiliar to many of you, I thought I'd post a quick review/introduction.
Culinary Features
Tea seed oil has a thin, light texture, similar to almond or grapeseed oil–much less viscous and "oily" than, say, olive oil.  The flavor is also very light and clean.  There are times, of course, when you'd want a more robust oil–but for times when you're looking for a light touch, tea seed oil fits the bill.
Tea seed oil makes a light, delicate vinaigrette, perfect for delicate greens that might be weighed down or overwhelmed by the flavor of a heavier or heartier oil.  Vegetables sauteed in tea seed oil remain almost dry to the touch, without the oily sheen you'd get from a heavier oil.
Nutritional Properties
Tea seed oil also has some unique nutritional properties. Although the texture reminds me of grapeseed oil, tea seed oil has a very different fatty acid profile. Continue reading "Something new for your pantry: Tea seed oil" >