Though applications are supposed to make your life easier, sometimes finding the right app can be a challenge. A "meal planning" search in the App Store yields pages of tools that claim to help you conquer the grocery store, step up your lunchbox game and make peace with your plate, but how can you know which apps are actually effective? After lots of downloading and deleting, I've put together a list of six free apps that have allowed me to spend more time enjoying my food rather than preparing it. These apps are available for both iPhone and Android users.
#1. Instacart: Best for buying groceries when you don't have time to shop
As a nutrition coach in University of Maryland's Health Center, I've found that my clients who grocery shop regularly are more likely to meet their nutritional goals compared to those who do not. This makes sense, as it's pretty hard to eat healthfully if you lack nutritious foods in your home. With the Instacart app, you can have fresh produce delivered to your home with the literal flick of your finger. Not having time to make it to the grocery store will no longer be an excuse for not eating healthfully.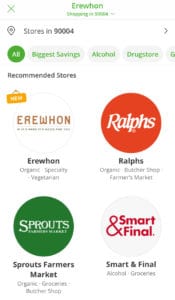 After typing your zip code into Instacart, a list of stores in your area will come up on your screen. After selecting a store, you can use the search bar to quickly find and order specific items, or, for a more authentic grocery store experience, you can add items to your cart as you peruse the different categories. You can also access Instacart online. Though the Instacart app is free, the order must be at least $10 to be eligible for delivery, and there is a $3.99 delivery fee (some of this money goes toward tipping the driver). You can subscribe to Instacart Express ($9.99/month or $99/year) to avoid this fee on orders above $35. Have fun portable grocery shopping!

Continue reading "Six Free Apps That Will Make Meal-Prep Easier" >