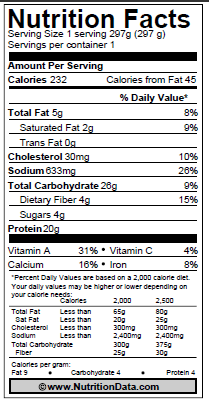 Q.  How accurate are the calorie counts on nutrition facts labels? What about the nutrition information at restaurants? Is anyone checking them for accuracy?

A.  Consumers are often surprised–and dismayed–to learn that the information on nutrition facts labels is not nearly as accurate or reliable as they imagined.   Part of this is built into the system.   The FDA allows manufacturers and packagers a surprisingly wide margin of error–the information can be off  by 20% in either direction and still be in compliance.   For example, if the nutrition facts label says that a food contains 300 calories, it may actually contain anywhere from 240 to 360 calories.
And, of course, sometimes the labels are out of compliance.  Although it would technically be up to the FDA (in the case of packaged foods) and the states (in the case of restaurants) to enforce the laws, you can imagine that the budget for spot-checking the accuracy of this information is fairly small.  When errors come to light, it's usually due to independent investigations.
Calories are Usually Underestimated
If the calorie counts on packaged foods were just as likely to be over as under, you could hope that it would all average out in the end. But in fact,  it appears that the labels underestimate the calorie counts far more often than they overestimate them.
A report in the January 2010 issue of the Journal of the American Medical Association found that on average, packaged foods contained 8% more calories than advertised and restaurant foods were an average of 18% over the stated calorie counts.  Even more disheartening, this particular study focused on "reduced calorie" foods. (Read more.)   A separate analysis by the Wall Street Journal found that meals from chain restaurants contained anywhere from 110% to 195% of the calories indicated on the menus. (Read more.)
Why Bother Counting Calories if the Calorie Counts are Wrong?
All of this may leave you wondering whether there is any point in counting calories when the information is so unreliable.  Here's my advice:
1. Use calorie counts as a guide not a guarantee
Although they may not be as accurate as you thought, nutrition facts labels are still useful.  Use them to get a rough estimate of the nutritional content of foods.  Use them to compare options to see which is better.  Just keep in mind that they are only an estimate.
2. Don't ignore other cues
You have other tools at your disposal to estimate appropriate portion sizes.  Does the portion look excessively large for the stated calorie count? Does it taste heavy or richer than you'd expect for the calories?  Do you feel full before you finish?  In addition to the nutrition facts, use your eyes, brain, experience, and appetite to gauge your intake.

3. Your body is the real calorie counter
Regardless of what the nutrition facts labels or online calorie counters say, your body is the final word on whether you're getting the right number of calories.  If you're having trouble losing weight or you're gaining weight when you don't mean to, you're getting too many calories and/or burning too few.
The same goes for those calculators that tell you how many calories you should eat based on your size, age, and activity level and the computers on exercise machines that tell you how many calories you're burning during your workout. They are only estimates–and not terribly accurate estimates, at that.
When it comes to energy balance (calories in vs. calories out), the most reliable indicator is your body.  Use it.