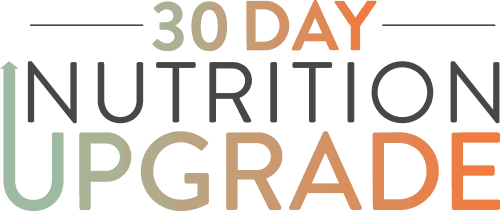 What would it take to change your eating habits for the better (and for good)?
Maybe less than you think!
The 30-day Nutrition Upgrade™ is a simple but highly effective way to reshape your eating habits and upgrade your nutrition, starting exactly where you are right now.
No judgment. No forbidden foods. Plus the support of an amazing online community.
Includes:
How it works
The 30-Day Nutrition Upgrade™ isn't a diet or a detox. It is a simple–but powerful–program that runs quietly in the background, subtly reshaping your habits. You'll learn the whole system in the webinar but here are the broad strokes:
Every day for 30 days, you'll answer 10 yes-or-no questions about what you ate that day. You get instant feedback on how your choices are adding up and how you can upgrade your nutrition. It takes about two minutes a day and can be effortlessly incorporated in to any daily routine.
And because it's so simple, most people (93% to be exact) keep on going when the 30 days is over, and continue to reap the benefits. Participants have reported:
losing weight (even though weight loss is not the focus of this program)
enjoying their food more
improved digestion
more energy and/or improved mood
feeling less hungry
finally bringing out of control snacking under control
More feedback from recent participants:
"Two weeks in and I am loving the upgrade! Thanks, Monica, for the guilt-free, pain-free plan."
---
"This program provided daily accountability and flexibility. It's just what I needed to help me make better choices NOW instead of the elusive tomorrow. I've lost five pounds and I feel proud of my eating choices at the end of most days."
---
"I can't tell you how much this program has done for me! Worth every penny and more"

---
"I'm loving the program! Feeling great and so psyched to be making sustainable changes rather than embarking on yet another intense, radical, short-term overhaul that ends up fizzling out."
---
"The upgrade has changed my life! I feel more energy and less brain fog, I have lost 3 pounds, decreased my sugar intake (without feeling deprived). The program helps me to make better choices on a more consistent basis. This is amazing."

---
"This has been a life changer for me, a way to be healthy and balanced as a way of life. I can't thank you enough!"

I could keep going on about why I'm so excited about this. But I really don't think I can say any better than this recent participant:
"Good nutrition isn't about perfection; it's about finding a balance between healthy habits and things you might eat simply for pleasure. Setting unrealistic goals or pushing yourself too hard will backfire sooner or later."

What she said!
If any of that resonates with you, this program is for you.
Includes:
Live one-hour online kickoff, plus Q&A for as long as there are questions.
Access to a video recording of the session afterwards.
Free Nutrition GPA smartphone app
Downloadable handouts and other program materials.
Private Facebook group for ongoing (and I mean ongoing!) connection and support.
Not sure if this is for you?
My post on "Is the 30-Day Nutrition Upgrade for Me?" has answers to frequently asked questions. And please feel free to contact me. I'd be happy to answer any other questions you have and help you decide whether this is a good fit for you.