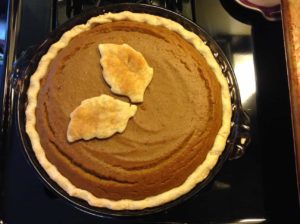 The Thanksgiving holiday is behind us but another month of festive eating occasions lies ahead! If you're on the hook to bring a dessert, try my "stealthy healthy" recipe for Pumpkin Avocado pie, with 40% less sugar than the usual.
(And if you're still freaking out about how much you ate last week, here's one from the archives that's just for you.)
And for those nutritionally-inspired book lovers on your gift list, here's my list of the best nutrition books of the year…all of which are more worth your time than the nutrition books that are on all the best-seller lists.
The evils of processed foods was a big theme in nutrition this year.  But all processed foods are not equally loathsome.  Some are even better off for the processing! Here's a list of 4 questions that can help you decide whether a processed food is a good choice or not.
And speaking of processing, a reader wondered whether fish in pouches is better or worse (or just the same?) than canned fish. My response here.
For those of you who live in or will be visiting New York City, I will be Nutritionist in Residence at the Hotel Andaz Wall Street for their festive 12 Days of Andaz celebration this year. If you find yourself in the neighborhood, I'll be holding some "nutrition office hours" at the hotel on Dec 21st and 22nd and would love it if you stopped into say Hi!