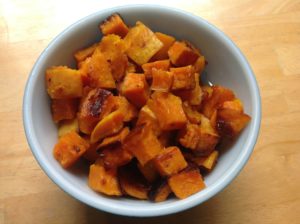 As I mentioned in a recent podcast, I eat a lot fewer grain-based than I used to, which prompted one listener to ask what I eat instead?  If you are cutting back on grains, here are some ideas on what to replace them with. And here's the recipe for the Roasted Butternut Squash that I mention in that episode.
I also got lots of requests to comment on the recent study showing that artificial sweeteners impair blood sugar tolerance. Could this finding reveal a hidden link between artificial sweeteners and weight gain? More will be revealed.
A lot of nondairy milks are fortified with calcium in order to make them more comparable to cow's milk in that regard. But how well do you absorb calcium from fortified foods? Some label reading may be required.
And finally,  few seasonal topics from the archives:
How to Make Great Toasted Pumpkin Seeds
Should You Give Out Sugar-Free Candy on Halloween?