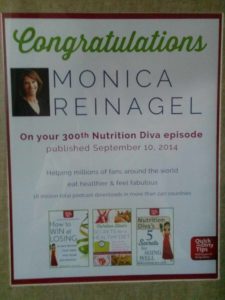 Recently, my wonderful team at Quick and Dirty Tips and I celebrated a milestone: the 300th episode of the Nutrition Diva podcast! Over the past 6 years, the podcast has been downloaded over 18 million times, and I've had the opportunity to correspond and become friends with hundreds of listeners, readers, and colleagues. My cup runneth over! (And, thanks to my generous and festive friends at QDT, with a very nice Pinot Noir.)
To mark the occasion, I usedthe 300th podcast to reflect on ways that my own diet has changed over the past six years, in response to things I've learned or tried  while researching the podcast. Here, as well, are five things of the most important things I've learned about diet and nutrition over the past six years.
For the the 301st episode, I turned the tables and took a look at how America's eating habits have changed over the past decade.  Also, as a quick follow up to a recent question on liquid smoke, here's a Q&A on smoked fish: is it a healthy choice?.
I also had an opportunity to drop in on my friends at WOSU Radio in Columbus, Ohio, last week! I've been a regular guest on All Sides with Ann Fisher for a while now, talking about nutrition news and trends. Usually, however, I am speaking with Ann on the phone from my home in Baltimore. So it was a real treat to join Ann in the studio for a live segment. touching on the latest research on artificial sweeteners, snacking, fast food trends, and more. You can listen to the podcast of our conversation (or watch the video stream) on their website.