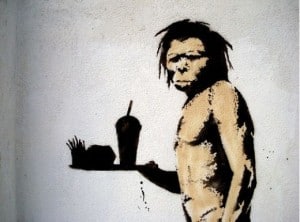 After stalling for months (and dozens of requests), I finally waded into the Paleo pile-up with my take on the primary advantages and disadvantages of this approach. Happily, no angry cavemen have arrived on my doorstep (yet)!
As you may know, Paleo enthusiasts avoid dairy products entirely. But for others who consume dairy,  this week's newsletter entertains the question, "How much milk is too much?"
As warm weather approaches (here in the Northern hemisphere anyway), magazines and websites are trotting out their predictable features on diet and foods that supposedly melt belly fat. Find out whether there any truth to these "flat-belly" foods.  And if you're trying to trim your tummy, you might want to think twice about thumbing (or clicking) through those cooking magazines and websites. Not surprisingly, pictures of yummy foods can stimulate your appetite.  Sadly, pictures of low-calorie vegetables don't seem to have quite the same crave-inducing properties.
Have a great week!