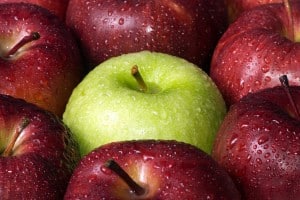 I've been busy posting…everywhere but here, I'm afraid. As a result, I have lots to catch you up on: Recent podcasts delved into 4 ways that unplanned eating can wreak havoc on your diet, the call for including fructose content on nutrition facts labels, whether a high fat diet might be healthier, and a joint episode with Ben Greenfield (Get Fit Guy) on common reasons that people give up on their diet and fitness regimens before they reach their goals.
In the Nutrition Diva newsletter, I answered reader questions about the way that fats are listed on the nutrition facts label, the skinny-fat paradox, and the latest on arsenic in brown rice (a post which garnered a response from the American Rice Federation).
On recipe.com, I've been focusing on seasonal fruits vegetables, such as cranberries, brussels sprouts, and apples, as well as perenniel favorites like avocadoes. Click on the links to learn more about the health benefits of each and for some terrific recipes.
October is also Breast Cancer Awareness month. Check out this great disccussion I had with Tom Hall of WYPR-FM on the links between diet and breast cancer as well as an article on Myths and Truths about Diet and Breast Cancer I wrote for TheDailyMeal.  A few weeks ago, Tom and I had a chance to unpack the controversy around the notorious Stanford study on the benefits (or lack thereof) of eating organic.
That brings us up to date. I pledge to to better with my weekly round-up/updates next month!