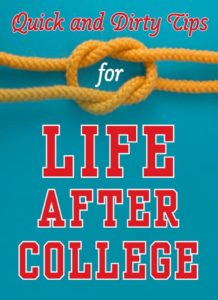 Last week's Natural Products Expo kept me from filing my usual weekly round-up, so I have a double-decker for you this week!  But first, today is the release date of our latest title: Quick and Dirty Tips for Life After College!  This essential guide gives any student or recent grad the tools they need to bridge the gap between graduation day and the "real world." My fellow QDT experts and I have helped millions of people improve their lives throughout the years, and we've put the very best of what we have to offer into this collection. It's not only incredibly useful and practical, it's cheap! Just $3.99 for our jam-packed e-book.
In this week's Nutrition Diva podcast, I took a closer look at the buzz surrounding green coffee drinks and supplements–is green coffee a better way to rev up or slim down?  Last week's podcast will be of particular interest to women of child-bearing years. The question is whether folic acid (crucial for the healthy development of a baby's brain and spinal cord) could have a darker side. Find out the relationship between folic acid, pregnancy, and colon cancer.
In the Nutrition Diva newsletter, I tackled food safety questions from readers, including whether you need to worry about lead in balsamic vinegar and confusion about the use of hormones in dairy cattle.
On the What's Cooking Blog, I have some tips (plus recipes) on getting the health benefits of chocolate without excess sugar and fat, and another recipe-packed tribute to nature's most nutritionally complete vegetable.